Impact Weeks: Lufthansa Group trains employees as Design Thinking coaches and provides on-location support for  university students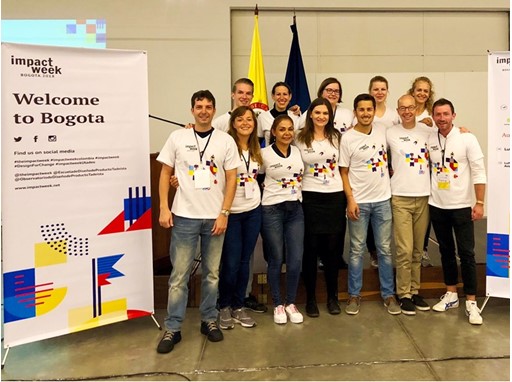 The third round of Impact Weeks begins
Cooperation with Lufthansa Group aid organization help alliance and local universities in India, Colombia, Nigeria and Rwanda
Participation by students from Project Sunshine in India, which is supported by help alliance
More than 60 employees of various Lufthansa Group companies will be trained as Design Thinking (DT) coaches over the course of five so-called 'Impact Weeks' in Colombia, India, Nigeria and Rwanda between September and December this year. Afterwards, they will immediately apply what they have learned and pass it on: together with students from local universities, they will develop business ideas and solutions for current problems, for instance in the areas of health care or financial technology. Also questions such as how to increase the supply of and demand for local products, e.g. in Colombia, will be handled. Every week, after four days, the best results will receive awards and financial support.
In this way, the Impact Weeks have a double benefit: They foster innovation and sustainable entrepreneurship in the countries where it is being offered, while at the same time Lufthansa Group employees are being further trained. The hands-on days of the Impact Weeks provide young people in developing countries and emerging markets with assistance and the opportunity to learn the necessary skills for contributing to the development of sustainable business models or establishing successful companies of their own. In order to ensure a lasting benefit for the countries involved, the participating universities will also receive the expertise that is necessary to conduct new Impact Weeks on their own going forward. 
"Our employees on the other hand can and should then bring the Design Thinking method into their companies and day-to-day work," says Claudia Rautenberg, Head of Cultural Transformation at Lufthansa Group. "They will help us push forward with innovation processes and make our work more agile and customer-centric at the same time."
The Impact Week in Delhi/India will also have young participants from Project Sunshine, which is being supported by help alliance. The daycare and afterschool care center was founded in 2002 and provides children and teens from the slums access to education. "help alliance wants to empower young people all over the world to lead independent lives. Ideally, this empowerment is facilitated by the service and dedication of colleagues from Lufthansa Group. The Impact Weeks are a wonderful platform for this that can greatly benefit both sides in lasting ways," says Andrea Pernkopf, Managing Director of the help alliance. 
Design Thinking (DT) is an innovative, agile approach to product development in which a problem is identified from a user perspective. The objective is to solve the problem with a business model. Throughout the process, the DT method is consistently focused on the needs of users. Participants will learn skills such as innovative, customer-oriented thinking or execution focus. The participants of the Impact Weeks will be trained by experienced Design Thinking trainers from Siemens, SAP and other companies. 
The Impact Weeks initiative is a cross-companies initiative. Besides Lufthansa Group, companies such as SAP, Siemens and the development agency Gesellschaft für Internationale Zusammenarbeit (GIZ, German Corporation for International Cooperation) are involved. The Impact Weeks are organized in cooperation with local universities in Bogotá, Delhi, Guwahati, Kigali and Lagos and with the support of help alliance. The dual concept, consisting of a 'train the trainer' learning phase and a phase of practical application, received the German innovation award "Ausgezeichnete Orte im Land der Ideen" in June. 
Through its Impact Weeks, Lufthansa Group supports the UN Sustainable Development Goals (SDG), particularly in the areas of high-quality education (SDG 4), as well as decent work and economic growth (SDG 8).
The dates of the Impact Weeks:
Bogota, Colombia: 19-28 September 2018 
Kigali, Rwanda: 27 September-6 October 2018 
Delhi, India: 4-11 October 2018 
Lagos, Nigeria: 15-22 November 2018 
Guwahati, India: 10-20 December 2018 
Additional information can be found at impactweek.net, www.helpalliance.org and lufthansagroup.com/responsibility.
Contacts
Media Relations

Lufthansa Group

Germany

-
More From Responsibility
SUBSCRIBE TO RSS FEED
XML