A Matter of the Heart: Crane Protection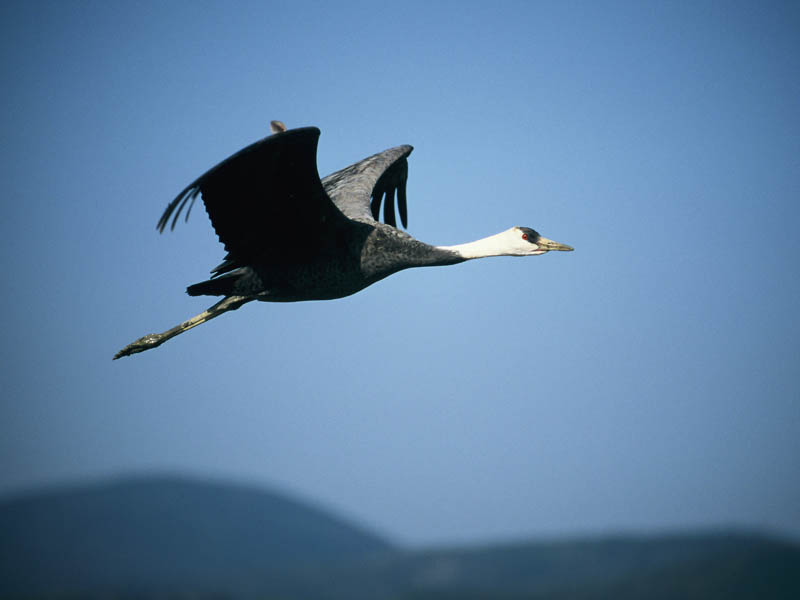 Committed to its heraldic animal: 25 years ago Lufthansa co-founded the Crane Protection Society
A messenger from heaven, a good luck charm and a symbol for long life - the crane is emblematic for all of these. Could there be a better trade mark for the Lufthansa Group? Hardly, and thus it is natural that the Lufthansa Group has constantly engaged itself for the protection of the heraldic animal since the 1980's.
The existence of at least ten of the 15 species worldwide is threatened as the destruction of their breeding, resting and gathering areas progresses. Therefore, after the reunification of Germany, East and West German crane protectors founded a working group together with Lufthansa. From that came the non-profit organization "Kranichschutz Deutschland" ("Crane Protection Germany") in February 1991- 25 years ago - with the NABU conservation association and the WWF as prominent partners.
"In the last quarter of a century our successful cooperation has made it possible to ensure the protection of Eurasian cranes in Europe", says Dr. Günter Nowald, Director of the Crane Information Centre and CEO of Kranichschutz Deutschland gGmbH, (non-profit limited liability company).
Susanne Kotysch, Head of Corporate Responsibility & Event Management, Lufthansa Group explains how well the crane fits Lufthansa: "The Lufthansa Group represents responsible mobility, networking and global connections. The crane symbolises this spectacularly. It knows no boundaries and has fascinating skills: With tailwind it can reach speeds of up to 100 kilometers an hour and in extreme cases it can fly around 2000 kilometers nonstop and extremely efficiently"
To mark the anniversary, Kotysch recently gave the Crane Protection Society a new vehicle on behalf of Lufthansa to ensure employees the best possible mobility in the wide-ranging observation area around the Information Centre.
Crane Information Centre
The Crane Information Centre in Gross Mohrdorf in Mecklenburg-Western Pomerania, one of the main crane resting places in Central Europe, is also a part of Kranichschutz Deutschland gGmbH. With its diverse exhibitions, events and guided tours, the centre is a central information, research and meeting place for scientists, conservationists and bird lovers.
Crane watching
In October, Kranichschutz Deutschland gGmbH opened the new KRANORAMA observation platform on the Günz Lake near the Information Centre. It provides barrier-free access to a crane feeding area for the first time. A live broadcast of the cranes on a screen guarantees an up-close experience of the up to 1.2 metre tall birds. Other audiovisual media present constantly updated information on the resting and migratory activities of the charismatic cranes.
Crane ranger
Many Lufthansa employees also volunteer to help the heraldic animal. Some Lufthansa employees spend time in autumn as temporary Crane Rangers in the Western Pomeranian lagoon landscape on the Baltic coast.
Contacts
Media Relations

Lufthansa Group

Germany

-
More From Responsibility
SUBSCRIBE TO RSS FEED
XML