The Flying Girls of Tempelhof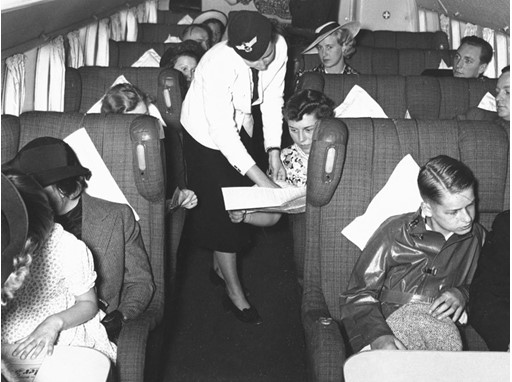 In 1938 Germany was inspired by a new profession: flight attendant. But how did this new profession emerge and how did the training develop in the early days of commercial aviation?
In 1933, a new profession was advertised in Leipziger Neueste Nachrichten: "If you, dear reader, are no heavier than 57 kilograms - including a suitcase, if you have courage, strong nerves and an unchanging good mood, if you are a personality, if you can stand being in the air like a seagull, if you are not afraid of the unforeseen, determined and brave - then I know a new, even the very latest dream job for you: become a society lady on board of an aircraft (...)".
Arthur Hove had already been serving as a steward in the aircraft of Luft Hansa since May 1928, supplying the passengers with food and beverages. Two years later, the first female stewardess flew in America, followed by the first female flight attendant in Europe at Swissair in 1934. It took Deutsche Lufthansa another four years until the first five female flight attendants and four male flight attendants boarded alongside Arthur Hove in 1938.
High demands were placed on the flying girls from Tempelhof: in addition to a good school education, Luft Hansa, as its then traffic manager Hans M. Bongers stated in an interview, placed great value on strength of character, unaffected kindness, comprehensive language skills, world experience, dexterity and self-control in every situation. In addition the selected ones learned in a four-week training: Traffic geography, meteorology, navigation, customs and foreign exchange regulation, air fares, safety devices and medical service. The practical part included the arrangement and serving of the food, the conversation in foreign languages and participation in an aerobatic flight, during which the pilot was allowed to show what he could do with the aircraft in the presence of the courageous ladies. After successfully completing their training, they were able to fulfil their tasks in full: Even the most fearful passengers felt at home on board.
The new service was very well received by passengers and in 1941 two female flight attendants, Emanuela von Roretz and Hilde Soldin, were the first half millionaires in the air to be celebrated. For comparison: in the early days of Luft Hansa, it took the first captains an average of seven to eight years. Unfortunately, no flight attendant of the Luft Hansa reached the million-kilometer mark. Since 1942, all flight attendants had been transferred to ground duty due to the war. It was not until 1955 that passengers could again enjoy the excellent service of the "society ladies in an aircraft". 
Contacts
Media Relations

Lufthansa Group

Germany

-