Technology in the ear, technology at work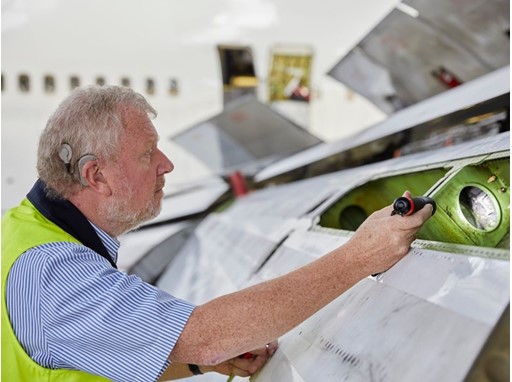 Tests in the cockpit despite hearing loss? Lufthansa Technik employee Michael Kalinowsky has found the ideal solution for his bodily limitations
After almost 32 years in the job, Michael Kalinowsky usually wakes up automatically at the right time in the morning. If the inner clock doesn't work, his wife wakes him up. Kalinowsky's deaf in both ears. During the day, he wears the magnetic transmitters on the left and right side of his head, carrying the sounds through his implants into the inner ear. Because he has to take them off at night, he can't hear the alarm in the morning.
Kalinowsky works as a Product Engineer for Lufthansa Technik in the long-haul team and is responsible for damaged aircraft all over the world. His specialty is structural damage: if a machine has suffered burns or even holes from lightning strikes, he has to assess if it is still airworthy. "We're the fire department here," he explains. If a defect occurs on the apron at an airplane, Kalinowsky and his colleagues hurry outside. He gives instructions for the repair or necessary on-site inspections. In individual cases, so-called flight conditions are defined and, after approval by the German Federal Aviation Authority, a transfer flight to its home country is carried out, so that he and his colleagues can bring the device back into service.
Thanks to the implants, his deafness does not affect him in his daily work. Sometimes colleagues ask curiously, he answers gladly. Since 2014, he has even been conducting test flights all over the world again, during which he thoroughly tests the aircraft after a lengthy check. A few years ago, Kalinowsky had difficulties with this task, which meant that he was no longer able to carry it out.
Since his studies, he has had difficulties with hearing due to circulatory problems. Occupational and private stress has exacerbated the situation. He has tried to ignore the problem and is amazed at how he has been able to make a connection by using isolated keywords in telephone calls and conferences. After a severe infection, Kalinowsky was deaf on both ears.

His ENT physician then recommended the consultation at the University Hospital Frankfurt, where he was informed about cochlear implants for the first time. In a three-hour operation, electrodes were implanted into his inner ear to stimulate the auditory nerves. These transmit the signal impulses to the brain, where the auditory perception develops. It worked so well for him that he was able to understand the subway announcement on his way home from the hospital two hours after the initial adjustment.
Kalinowsky advises all those affected to face their problems and do something about them as early as possible, because poor hearing can have a strong impact on professional and social life. "I had stopped seeing my friends. In noisy bars I couldn't follow any conversation anyway and after some unpleasant misunderstandings, I preferred not to say anything anymore. "Some doctors don't know how much an implant can restore the old life ". Therefore, it is advisable to seek additional information in open consultation hours or self-help groups. And the best is to talk openly with your colleagues about it. It helps a hearing impaired person a lot when a colleague comes to the table and looks at him while talking so that he can read his lips in a supportive way," says Kalinowsky. Today, he has a mission: to help improve the implant and create acceptance for hearing impaired people.
Finally able to hear again
In order to show other hearing impaired people what can be done despite deafness, Kalinowsky invited implant holders from different age groups and their families to his workplace on October 20.
Pascal Kheribich supported him: This year he began his training as an aircraft electronics technician at Lufthansa Technik in Frankfurt. Kheribich was born deaf, but his parents fought to ensure that he received an implant at the age of three months. They trained a lot with him, which meant that his language gain was barely affected.
Kheribich's chances of finding an apprenticeship were not very good: "I just tried, handed in certificates and eventually convinced the doctor in the aptitude test," he tells the visitors. He enjoys his work and has no difficulty with hearing - only in the training workshop and in the canteen it sometimes gets a bit loud, but he is probably not the only one struggling with it.
Contacts
Media Relations

Lufthansa Group

Germany

-
More From Newsroom
SUBSCRIBE TO RSS FEED
XML