Swiftly measured and weighed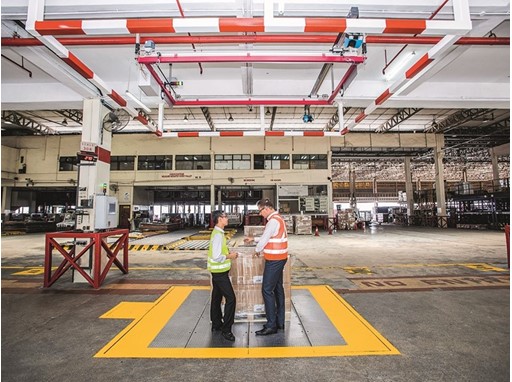 Thanks to Smartwatch and SMARTGate, SATS ground handlers in Singapore have the edge as the forces driving innovation
The fork-lift truck places the packed airfreight pallet underneath the red and white bar. The system is installed in the ceiling of the terminal used by the SATS ground handling professionals at Changi Airport in Singapore. Three, two, one – the truck lifts the pallet again and brings it to the loading position. That short moment is sufficient to weigh the freight item, measure it exactly using laser technology and photograph it with cameras. Therefore, immediately afterwards the SATS IT systems can access all the data such as weight and volume at any time.
SMARTGate is the name of the fully-automated measurement system that Lufthansa Cargo has developed in conjunction with the machine vision experts from Vitronic, located in Wiesbaden, Germany. The system is aimed at further advancing the digitalization of freight handling processes. "Using SMARTGate for a measurement lasts between two and five seconds. By contrast, measuring a freight item manually, including making a note of the figures on paper and entering the measurements, takes at least 20 seconds," explains Marco Sperling, Head of Production South & South East Asia at Lufthansa Cargo in Singapore.
The advantage of the high level of measurement precision for customers means that amounts can now be settled even more precisely. Eleven additional SMARTGate systems are currently already in use at Lufthansa Cargo. They measure and weigh the freight items when the freight is accepted at the airline's seven own locations in Frankfurt, Munich, Atlanta, New York JFK, Chicago, Los Angeles and Johannesburg. In Singapore, the SMARTGate is being operated for the first time by the ground handling agent SATS and not Lufthansa Cargo itself. There are two reasons for this partnership: on the one hand the companies maintain very close ties because Lufthansa Cargo in Singapore does not have its own infrastructure and relies on SATS to provide the resources. The strategy and projects as well as SMARTGate are closely coordinated at meetings held on a regular basis. On the other hand, the freight handler SATS, headquartered in Singapore, is one of the sector's leading innovative drivers. The company has 13,000 employees and in the meantime is represented at 47 airports and 55 cities in China, India, Taipei, Hong Kong, Saudi Arabia and Oman.
In ramp handling, SATS now additionally uses smartwatches, which provide Tech Ramp agents with real-time job and task notification on-the-go, and ensures they are updated remotely. The system comes with a bone conduction headset and guarantees audible communications. Thanks to real-time GPS to monitor the Tech Ramp Agents' movements, SATS can track performance across the board and analyze data for meticulous planning. "Innovations are not only about being creative but also about developing ideas that improve the entire work process. At SATS we embrace new ideas and new solutions," says Yee Lin Chan, Vice President Customer Airlines at SATS. In conjunction with Lufthansa Cargo's experts, Chan is responsible for setting up the SMARTGate and training employees at the SATS terminal. SATS considers the collaboration with Lufthansa Cargo an additional driving force for innovation. "As partners we learn from each other and exchange ideas," adds Sperling. At the top of their joint wish list Chan and Sperling cite a particular innovation: "Automatic pallet build-up!"
Contacts
Media Relations

Lufthansa Group

Germany

-