Lufthansa introduces new Fast Bag Drop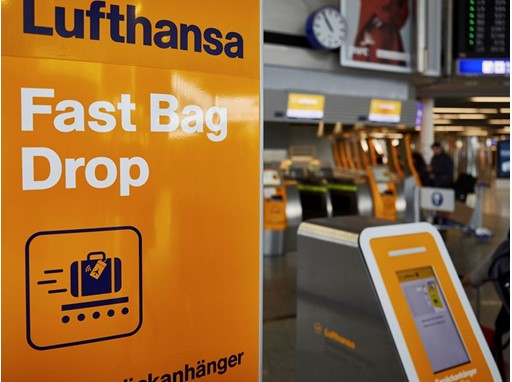 New self-service machines at Frankfurt Airport make baggage drop-off even faster
Lufthansa passengers can check-in their luggage even faster in Frankfurt. Anyone who has checked-in online and has already printed out a baggage tag at home or has an electronic baggage tag only needs to check-in the suitcase at the new Fast Bag Drop - without pressing a button. All one has to do is put the luggage tag into a special case. Passengers who do not have a cover will receive it free of charge from the machine supervisor. 
After setting up the luggage, the guest is recognized by their luggage tag. If the baggage to be checked-in is within the free baggage allowance, the baggage is automatically transported away. The guest will then receive their checked baggage receipt as usual at the vending machine or electronically.
Even spontaneous baggage check-in is possible. Passengers can simply scan their boarding pass at the Fast Bag Drop. The machine prints a self-adhesive baggage tag, which only needs to be attached to the suitcase before it can be placed on the baggage belt.
The Fast-Bag-Drop area is located at Frankfurt Airport in Terminal 1, Hall A, in a zone marked by pillars and monitors, directly next to the classic Self-Bag-Drop machines. An expansion to the Lufthansa hub in Munich and other airports is currently being planned.
The new service currently applies to passengers of Lufthansa, SWISS and Austrian Airlines. Passengers who have to change airports, have an overnight stay, are affected by irregularity or are flying with another airline will still be able to use the conventional Self-Bag-Drop machines.
Contacts
Media Relations

Lufthansa Group

Germany

-