Huge revenue for help alliance from on-board sales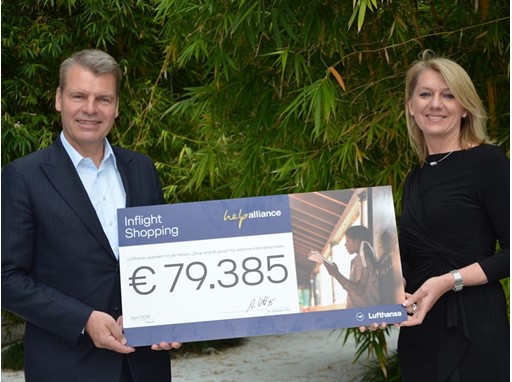 Fundraiser raises nearly €80,000 for an educational project in India
Passengers on board many Lufthansa planes took advantage of the inflight shopping offer from 1 November to 28 February nearly 80,000 times. Not only did they do something nice for themselves, their family or friends, but they also did something good at the same time, because the HE division of the Lufthansa Group donated one euro to the help alliance project Sponsorship Circle India for each and every purchase. That's how the proud sum of just under €80,000 was raised. Dr Andreas Otto, Chief Commercial Officer Austrian Airlines and Process Domain Owner Passenger Experience, Product Management and Ancillary Services Hub Airlines, handed this sum over to the new Managing Director of help alliance, Andrea Pernkopf, yesterday.
"We are very pleased to be in a position to offer the more than 2,000 children involved in the project good prospects for the future – thanks to this campaign," says Otto, who has been supporting help alliance for many years. "A big thank you to all our passengers who made this sum possible with their purchases. This great campaign in favor of help alliance will be repeated – no question."
Pernkopf adds: "With this sum, we, together with the many Lufthansa Group employees who are committed to volunteering, can enable even more needy children in India to gain access to educational institutions and thus enjoy a self-determined life."
The Child Sponsorship Circle India provides help to children and adolescents in the central Indian state of Madhya Pradesh, one of the poorest areas in the world. More than 2,000 children of all ages, ethnic minorities and denominations now live in the 20 boarding schools of the aid project, where they receive healthy meals, clothing, medical care and, above all, an education. In addition, the Child Sponsorship Circle India holds health camps so that residents of remote villages can also receive medical care. For this purpose, hygiene and first-aid training is carried out on site and obstetricians trained, thus significantly reducing the extremely high mortality rate for pregnancies and births. The project is headed by Lufthansa's Ralf Steuer.
Contacts
Media Relations

Lufthansa Group

Germany

-
More From Newsroom
SUBSCRIBE TO RSS FEED
XML