Gluing. Screwing. Wrapping.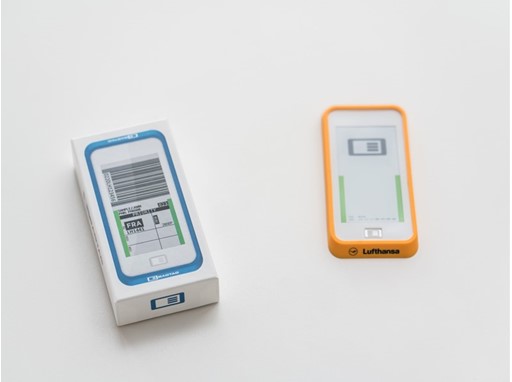 The electronic luggage tag BAGTAG complements the Lufthansa Group's digital luggage services with immediate effect
The idea is not new. Simple and fast check-in of suitcases at the self-bag- drop desk thanks to digital support on the case itself. There is already an electronic display instead of the conventional paper luggage tag. However, the RIMOWA Electronic Tag, which has been available since the beginning of 2016 via the Lufthansa app, is not necessarily something for everyone. Now the Dutch startup DS Tags offers an alternative with its BAGTAG. The electronic luggage tag is as large as a smartphone and can be attached to any suitcase. The traveller can attach the luggage tag to his or her suitcase, screw it on or fasten it with a luggage strap. Lufthansa is the first airline in the world to support this innovative solution and integrate it into its digital baggage services.
Lufthansa passengers can check in their luggage with the BAGTAG, just like with the RIMOWA Electronic Tag, from home or on the way with the Lufthansa app. From their digital boarding card, they transfer the data from their smartphone via Bluetooth to their luggage equipped with an electronic tag with just one click. The luggage data is immediately displayed on the display and corresponds in size and appearance to today's paper tags.
BAGTAG can be used by Lufthansa, SWISS and Austrian passengers via the Android version of the Lufthansa App and can be checked in at any Lufthansa Group baggage check-in counter and at all self-bag drop baggage vending machines. Apple users will probably have to wait until May to use this mobile check-in feature. The BAGTAG is now available for 89 Euro in the Worldshop. The battery should hold at least 2500 flights.
The Digital Services Product Management HE/CG-D implemented this innovation in cooperation with the Mobile Services team of IT HI/CC-M.
https://bagtag.com/
www.worldshop.eu
Contacts
Media Relations

Lufthansa Group

Germany

-