Four-legged guests in the Animal Lounge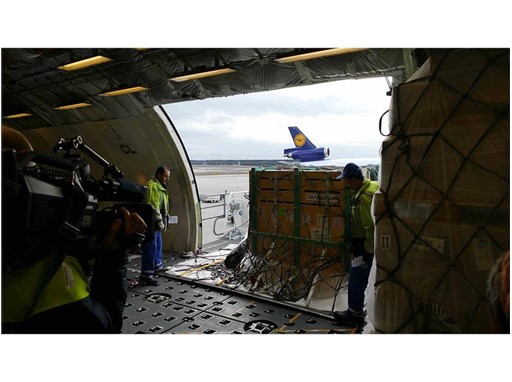 Lufthansa Cargo flew Mesopotamian fallow deer from the Opel Zoo to Jerusalem – accompanied by a television crew
Two of the animals lovingly referred to as "Mesos" were taken to the Jerusalem Biblical Zoo last week. "The young deer landed safely in Israel and have very quickly become accustomed to the new environment after the flight and transport on the road", says Jörg Beckmann from Opel Zoo in Kronberg, who escorted the animals on their journey. Animal forwarding agent GRADLYN and Lufthansa Cargo arranged the transport. After being carefully prepared, the nine-month-old quadrupeds took off for Israel with LH 8340. "As a specialized animal transport company, for us each zoo transport is a special challenge that we gladly face. We are pleased to make a small contribution to species conservation with our work," says Sandra Wedel from forwarding agent GRADLYN.
The deer's journey was of interest to the Hessian broadcasting company Hessischer Rundfunk: A film crew of the programme "Giraffe, Erdmännchen & Co." accompanied the young animals on their trip from Hessia's Kronberg to the flight from Frankfurt to Israel. Broadcast of the documentary is scheduled for September.
The Mesopotamian fallow deer was eradicated in what is now Israel in the late 19th century and was considered to be extinct until the mid-20th century. Zoo founder Dr h.c. Georg von Opel funded expeditions to today's Iran in the 1950s and 60s, as a result of which three Mesopotamian fallow deer were brought to the Opel Zoo. "All deer of this species now living in zoos in Europe are derived from these animals, so the species is not only the zoological legacy of the zoo founder but also the most valuable species in the Opel Zoo from the perspective of conservation", says Beckmann.  
The two males from the Opel Zoo are to reproduce in the zoo, and their offspring are to be returned to the wild in future. This will ensure that this iconic species is safeguarded and will be able to be experienced by future generations.
Contacts
Media Relations

Lufthansa Group

Germany

-