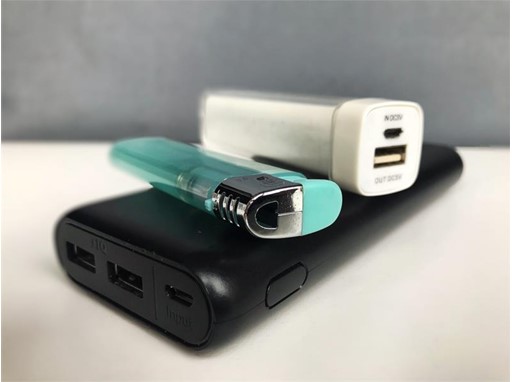 Hub Airlines sensitise passengers to dangerous items
Uniform regulations and joint presentation by Austrian Airlines, Lufthansa and SWISS
In recent months there have been repeated incidents on board Lufthansa flights caused by electronic devices used by passengers. Thanks to the quick and careful action of the crew, no one was harmed.
While crew members are trained in such situations and check-in personnel undergo regular training, passengers are often unaware of the danger posed by spare batteries, powerbank, lighter or e-cigarette. Since these accessories are highly flammable, special rules apply for their transport for safety reasons:
Spare batteries, powerbanks and e-cigarettes may only be carried in hand luggage.
Lighters and matches must be worn directly on the body.
This will prevent checked baggage from being opened and removed during baggage screening, during which all baggage items are screened under the supervision of the responsible authorities. And: the risk of fire in the cargo compartment is reduced.
The hub airlines are now launching a wide-ranging information campaign to make passengers and employees more aware of how to handle dangerous objects. The airlines rely on uniform regulations and a common appearance.
From now on, passengers will be informed via preflight e-mail which items they can carry in their hand luggage. The home print boarding pass contains a corresponding note, as will the screen savers of the check-in kiosks and Self Bag Drop machines in the near future. The topic is also prominently featured on austrian.com, lufthansa.com and swiss.com, during online check-in and in the Lufthansa App. The same applies to the monitors at the gates.
Gate announcements and displays
Since the end of June, the gate announcements of the hub airlines contain a corresponding passage on dangerous items in hand luggage. From August 1, Austrian Airlines, Lufthansa and SWISS will also have uniform displays at their airports pointing out prohibited and dangerous items in checked and hand baggage. The three hub airlines will thus jointly replace up to three different operators at the stations.
During the summer, a harmonized trailer for 'Delivery at aircraft' (DAA) with corresponding information will be used for flights with CRJ900, ER4 or Dash 8-400. Initially in FRA and MUC, guests are also informed on the luggage trolley in front of the regional aircraft to remove spare batteries, powerbank, lighter, matches or e-cigarette from their DAA hand luggage.
Tip for taking personal electronic devices with you
It is recommended to store all personal electronic devices with a maximum capacity of 160 Wh in your hand luggage. Devices with an output of more than 160 Wh are generally excluded from transport, provided there is no medical necessity. A detailed overview is available on the websites of Hub Airlines.
Dangerous and prohibited goods
You can find the contents of the stand-up display as a pdf-document.
More Info
Further information on taking dangerous items with you and the consequences of taking them out can be found at austrian.com, lufthansa.com und swiss.com.
Contacts
Media Relations

Lufthansa Group

Germany

-