Extended food selection: Lufthansa introduces "A la carte dining" meals in Economy and Premium Economy Class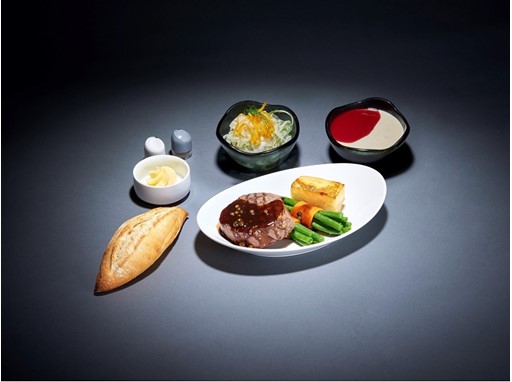 In the future, seven selected menus can be ordered on long-haul flights for an extra charge
From summer 2018 Lufthansa Economy and Premium Economy Class passengers will be able to order one of seven selected "A la carte dining" meals on long-haul flights for an extra charge.
Whether gourmet menu with grilled steak, Bento Box with a selection of classic Japanese sushi specialities, hearty Bavarian snacks, Asian vitality menu with quinoa, Mediterranean pasta with shrimp or exotic Thai curry: there are different menu varia-tions to choose from, depending on your taste and preference. They are served to the passenger on stylish porcelain.
The multi-course menus are offered on almost all Lufthansa intercontinental flights from Frankfurt and Munich and are served on order instead of the regular first meal. They cost between 19 and 33 euros and are expected to be available from May 2018. The "A la carte dining" meals can be booked on lufthansa.com up to 24 hours before departure.
The "A la carte dining" meals do not replace the existing food and drink offerings in Economy and Premium Economy Class, but complement them at the passengers' individual request. Availability per flight is limited.
Contacts
Media Relations

Lufthansa Group

Germany

-
More From Newsroom
SUBSCRIBE TO RSS FEED
XML