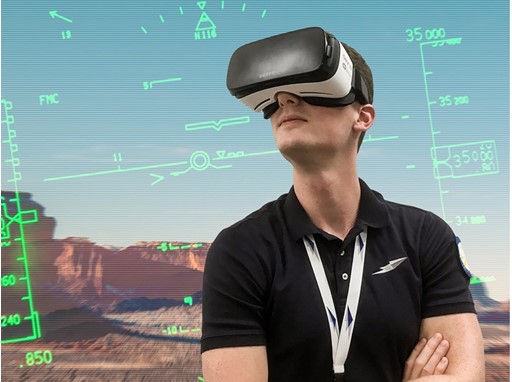 In the coming years, 500 flight students per year will be trained for the Lufthansa Group. Now, for the first time a new digital training concept has been implemented
The situation looks real, like the view from a real cockpit to a real landscape. But Lukas Thiehoff does not sit in a cockpit. And he looks into glasses: virtual reality or VR glasses. Thiehoff is a flight student at the European Flight Academy (EFA) in Goodyear, Arizona. With the help of Virtual Reality (VR), he and his colleagues will in future be prepared for their first cross-country flights - just like in a mobile simulator.
The "flight" through a 360-degree VR video including interactive elements lasts 30 minutes. "Everything looks extremely real because the glasses react to my vision and my movements and always show me exactly what is in the places I am currently looking at," Thiehoff describes the simulation with the VR glasses from Samsung Gear VR. The training module is part of a pilot project in Goodyear. Thiehoff is currently completing the four-month practical phase of his almost two-year pilot training, during which he also trains cross-country flights under visual flight conditions.
He is one of the 500 young men and women who will be trained this year as airline pilots for the Lufthansa Group. According to a new concept. New, and above all: digital. Breeding over flight plans, airspace maps and pocket calculators will soon be a thing of the past. The future pilots will receive an iPad with all theoretical training contents as well as various flying apps such as 'ForeFlight' for current weather and flight route maps or 'MBPCalculator' for calculating take-off and landing weights at the beginning of their training. "The use of iPads not only saves our flight schools tons of paper during the entire training and thus protects the environment," says Stefan-Kenan Scheib, training manager at the EFA," but the training content is up to date after each update and no longer has to be laboriously updated manually. And: it lowers the material training costs by around 10 percent per student.
New aircraft, new trainings
What is also new is that the student pilots have been able to train in new training aircraft for several months now. Lufthansa Aviation Training recently acquired 25 Cirrus SR20 and 5 DA-42 aircraft, all equipped with state-of-the-art avionics instruments in a glass cockpit similar to a wide-body aircraft. "At our flight schools, the flight students are not only prepared for flying itself, but above all for flying as a pilot with commercial airlines. It is therefore of fundamental importance to train the handling of the instruments according to established airline procedures at an early stage. The new training aircraft offer the best possible simulation for everyday piloting," explains Scheib.
The biggest technical innovation helps here: VR glasses. They are intended to improve the quality and effectiveness of training. "By literally immersing themselves in the virtual environment, pilots can grasp connections more quickly and reduce stress levels," says Scheib.
When flight student Thiehoff was allowed to test the VR glasses for the first time in summer, he had already successfully completed his first solo flight in the Arizona desert. "That was quite demanding. The wind was at its limit at 17 knots that day," he says. "A visual preparation with VR glasses would certainly have given me additional security".
 
Contacts
Media Relations

Lufthansa Group

Germany

-
More From Newsroom
SUBSCRIBE TO RSS FEED
XML