Children discover Lufthansa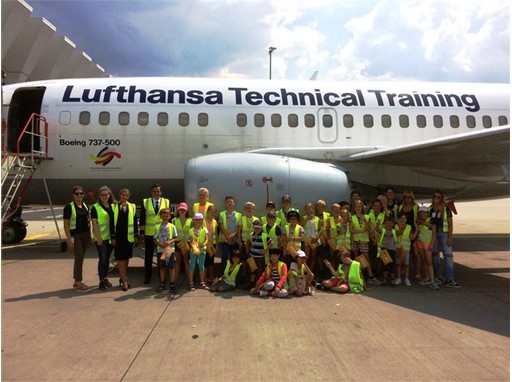 Holidays are travel time? Not always. At Lufthansa, children from employees can discover new territory during the summer holidays and get to know and love their parents' workplace.
During the summer holidays in Frankfurt and Munich, employee's children at the ages of six to twelve have the unique opportunity to take a look behind the scenes and explore their parents' working environment in the frame of the "Luftikusse" program. In addition to games, exercises and a lot of fun, the holiday care for children of Lufthansa Group employees offers a varied excursion program for one week each: How is a boarding pass issued, where does your luggage land after check-in at the counter, what does an aircraft cockpit look like from the inside, who repairs the aircraft and how does the on board service work? These and many other questions are explained to the children on an expedition to the airport. During their visit to Lufthansa Cargo, the kids learned everything about the airport codes and the determination of cargo weight. Also on the program: visits to operational security, LSG, the airport apron, Seeheim, the airport fire brigade and Lufthansa Systems. Every Friday during the holidays, the children rehearse and perform a circus or theater play to celebrate the end of their exciting week at Lufthansa and head home happy and satisfied. Here the children can, once again, let off steam and reveal hidden talents to their parents.
The holiday program for employees' children was founded in 2013 by the initiative of Dr. Bettina Volkens, Chief Human Resources and Legal Officer of Deutsche Lufthansa AG, to help better combine family and career. Initially offered only three times a week, the large rush in Frankfurt quickly required adjustments. Since 2014, the "Luftikusse" program offers holiday for children of Lufthansa Group employees over the entire summer holiday period of six weeks. Since 2015, the program also runs successfully in Munich and continues to enjoy increasing demand.
But that's not all. Only one year after the introduction of the "Luftikusse" holiday program, the Lufthansa Family Congress debuted at the Lufthansa Training and Conference Center in Seeheim. In the so-called think tank, employees from various areas meet every two years to develop new concepts and ideas for further childcare and a family-friendly workplace. For instance, this is how the so-called parent-child offices were created in Frankfurt and Hamburg. Whenever needed, employees can use the special offices with a play area together with their children.
But also for employees without children: Something is changing in the company. Children, who are laughing, playing and running through the Flight Operations Center in Munich, the Lufthansa Aviation Center in Frankfurt and the staff canteens, simply provide a huge variety in the everyday work. Program manager Juliane Grauer is convinced: "Children belong to the company".
Contacts
Media Relations

Lufthansa Group

Germany

-
More From Current Topics
SUBSCRIBE TO RSS FEED
XML