"That's why other companies envy us"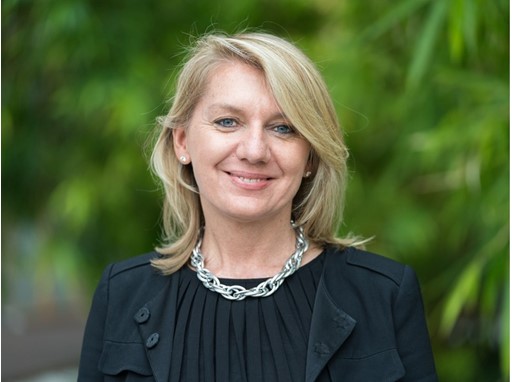 New project leaders, the possibility of submitting one's own projects or setting up local charity initiatives. help alliance is strengthening its foundations: the commitment of its employees. At the same time, the course is being set so that help alliance will be in good shape for the future and able to win the favour of donors in a tough competitive environment. Andrea Pernkopf, Managing Director of help alliance, explains how this will succeed.
Ms Pernkopf, can help alliance score points with its concept in the harsh NGO market?
I'm firmly convinced of it. More and more companies are becoming involved in charitable organisations via foundations or cash donations - but I don't know of any company in which employees put forward their own projects and then own them. There's nothing like it anywhere else, and that's why other companies envy us. And with this, we can score highly in the tough competitive environment for donations. 
So the employees of the Lufthansa Group make the difference?
Absolutely. The help alliance was founded almost 20 years ago by Lufthansa employees to work together for less fortunate people and in particular to help children and young people all over the world to lead a self-determined life. The track record is impressive: in almost 20 years, more than 140 projects with a volume of more than 15 million euros have been supported. Currently, more than 10,000 people benefit directly and indirectly from our support - almost always on the initiative and in the responsibility of our colleagues, who also make their free time available for this. Whoever burns for the good cause in this way, who carries this passion and enthusiasm within him, deserves the greatest appreciation and recognition. After all, the Lufthansa Group benefits from this in many areas.
And what role does the transformation into a non-profit company play in this context?
By anchoring the organisation of help alliance in the VV department in Corporate Communications and with the clear commitment to expanding help alliance as an elementary pillar of the Group's corporate citizenship commitment, we can anchor our employee organisation even better in the Group and make use of its strengths for ourselves. Moreover, the Lufthansa Group is making a generous donation to cover our administrative costs, so we can promise that every cent donated will flow into the projects one hundred percent. We can score points over the competition here as well.
What goals have you set yourself?
Together with my Co-Managing Director, Susanne Kotysch, our help alliance team and all employees, I want to ensure that help alliance exploits the Group's expertise and assets even more. All dedicated colleagues should be able to find a home under the help alliance umbrella – not just on paper! The sustainable development goals of the United Nations constitute another aspect. As help alliance, we'd like to make a contribution with the focal points of our projects: education, work and income.
And how do you intend to do that?
By ensuring that the voluntary commitment of our employees in the field of education and training becomes visible. By ensuring that the necessary donations are collected to help the people in the projects. And by ensuring that the enthusiasm of our employees for the good cause spreads throughout the company, among our customers and suppliers. This will also have a positive effect on the amount of donations. The help alliance is a kind of multiplier and door opener. And of course the employees of the Lufthansa Group.
As a kind of ambassador of help alliance?
Precisely. We're already working on an ambassador concept that, besides our employees, will also include people outside the company. Our airlines and companies have many fans and friends. It would be great if we could motivate some of them to become help alliance ambassadors.
The business areas are also becoming increasingly active. What's happening in this field?
There are two areas that this concerns. On the one hand, more and more airlines are knocking on our door and want to collect donations for their colleagues' projects. For example, with our customers on board. Lufthansa, Austrian and Condor passengers have been able to donate to the help alliance projects for some time. A new addition is Edelweiss Air. And soon Eurowings and Brussels Airlines will also have this option. In addition, more and more employees from various business areas are approaching us with ideas to generate donations in both their professional and private lives. We are very pleased about that. It would be nice if other colleagues would decide to take part in Payroll Giving.
And the other area?
This concerns the projects. Many business units would like to create their own projects. The initiative to so comes from both the management and the workforce. You can see a trend here: colleagues from all over the world are coming together and starting up small charity committees that want to do something good together locally. We help to promote this cross-business and cross-hierarchical commitment. This "spirit" not only unites employees from different parts of the world, but also gives a very positive boost to the corporate culture within the Lufthansa Group.
So help alliance seems to be on the right track?
That's for sure. We have to become even better and more professional in some areas. We're aware of that. Many topics from the commercial environment can be transferred one-to-one to the non-profit world: from "customer journey" to "donor journey", personalisation and emotionalisation, process orientation for sustainable project management or KPIs to measure impact. Together with the Innovation Hub in Berlin, we are in the process of deriving opportunities for the work we do from innovation and digitisation. There's still a great deal of leeway in the field of digital and social media. We need to exploit this more to convey our enthusiasm and to make our employees' projects tangible at first hand. We need to become more well-known and more innovative externally, above all, so we can generate new donations. Because, after all, our ultimate goal is to work together to help even more disadvantaged people around the world. True to our motto: Closer to the world. Closer to its people.
Contacts
Media Relations

Lufthansa Group

Germany

-