Dimensions of Digitization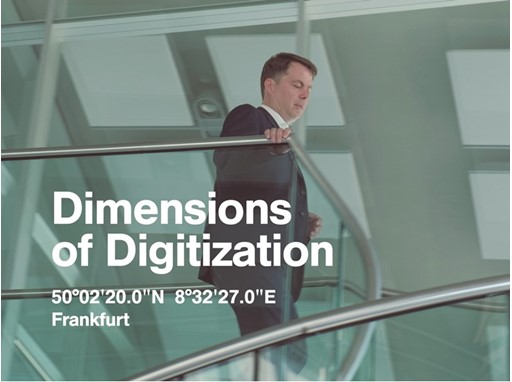 There is no doubt that digitalization has changed the way we live. By now, it has also permeated almost every aspect of aviation. And this is why we here at the Lufthansa Group are using digitalization to make our business even better and more efficient. For the Lufthansa Group, 2017 is dedicated to this theme. On January 10th, at the Digital Aviation Forum in Frankfurt, we presented the digital portfolio of our group to decision makers, the media, and our customers.
Digitalization can result in major increases in efficiency. Chatbots – digital advisors based on artificial intelligence – noticeably lighten the load of our service centres. Our customers benefit from shorter hold times. Or geo-location sensors and the use of tracking systems ensure a faster allocation of replacement parts for aircraft.
The next level of digitalization will deal with the question of how to use new digital opportunities to increase the satisfaction and loyalty of our customers with products and services that are tailored to their needs. With over 100 million passengers per year, how can we use the increasing number of customer interactions and the resulting data streams to make even better decisions? The keyword here is "big data". We can use "customer analytics" and artificial intelligence to deduce customer preferences and to personalize and optimize our guests' travel experiences.
There is another level of digitalization with enormous potential: new market structures. It is strategically advisable for us to develop our own platform-based systems or to participate in such systems. Platform-based business models that operate, for the most part, without infrastructure of their own bundle access to customers and structure the content of the offers. There are a number of well-known examples: UBER, for instance, is currently revolutionizing the taxi industry around the world, and AirBnB is tapping the demand of the market for hotel stays. The point here is less to efficiently structure and control resources than to promote and direct outside interaction. For the Lufthansa Group and many of its subsidiaries, this will involve a profound transformation.
In our group, we are developing initiatives in every dimension of digitalization – at the airlines and at the service companies. Digital innovation will ensure that we have a competitive advantage, in particular wherever we can combine new technologies with expert knowledge and many years of practical experience. The goal is to make our business models compatible with new ideas.
If we can recognize the potential of digitalization, appreciate data as an asset and develop digital strategies today, this will also reveal new perspectives for the future.
Contacts
Media Relations

Lufthansa Group

Germany

-
More From Images & Videos
SUBSCRIBE TO RSS FEED
XML