Booking electrons for Lufthansa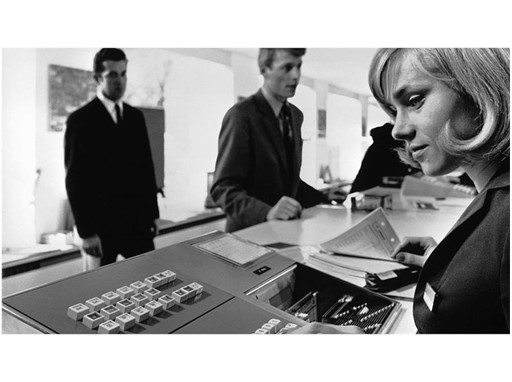 In March 1967, the then Mayor of Frankfurt, Dr. Wilhelm Fay, initiated the first Lufthansa electronic ticket booking system with the touch of a button
Lufthansa considered processing its bookings electronically as early as 1957. At this time, passengers' reservation requests were telegraphed to the booking office. The reservation request was checked against checklists and a reply was sent back. As soon as a flight was sold out, the Frankfurt headquarters or a responsible city office stopped selling tickets for it. This procedure was very time and personnel intensive.
In 1962, the new electronic booking system developed by Lufthansa and Siemens was presented at the Hanover Fair. But how did the electronic seat booking system work? There were more than 200 booking offices across Germany in the city offices and at airports and each was equipped with a device for data input, data storage and a teletypewriter. The Lufthansa employees were able to enter all relevant flight booking data directly during the customer interviews. When the flight date, desired class, number of seats, flight route, flight number and name of the passenger were entered, the employee had only to press the start button. The data was subsequently transferred to the Siemens 3003 data processing facilities at the Lufthansa base using one of more than 40 telex communication circuits rented from the German Post. The customer immediately received an answer as to whether his desired flight was still available. This eliminated long waiting times. 
If a flight was already booked out, the computer submitted substitute offers, either in another booking class or on another flight. A special feature of the system also allowed passengers´ special wishes to be taken into consideration.
And how does it look today?
Lufthansa outsourced the operation of a booking system to Amadeus in the early 1990s. Amadeus is used worldwide by travel agencies, internet booking platforms, company booking machines and in the meantime by more than 120 airlines. In contrast to its beginnings, there is no longer a central system, but a complex system landscape covering all aspects of the booking process. Due to technological advances, data is processed today in ways that were inconceivable in the past. This includes the seating reservations, cooperation models (e.g. Codeshare) and highly complex calculation to which conditions (price, forecast, workload) a booking is accepted. Since all Lufthansa Group airlines are now integrated on the Amadeus Altea platform, the management of bookings within the Lufthansa Group is possible.
Contacts
Media Relations

Lufthansa Group

Germany

-